Left Wing Huffington Post (11/9/11) :  "The First Lady, of course, made [Jason] Wu a household name back in January 2009 when she wore one of his creations to the Inaugural Ball.And since then, she's sported Wu's frocks on magazine covers, on transatlantic flights and at White House receptions. "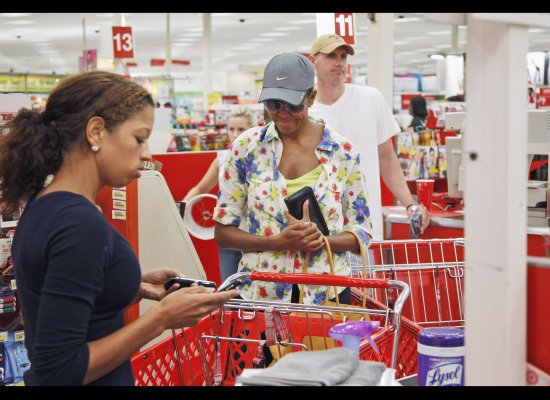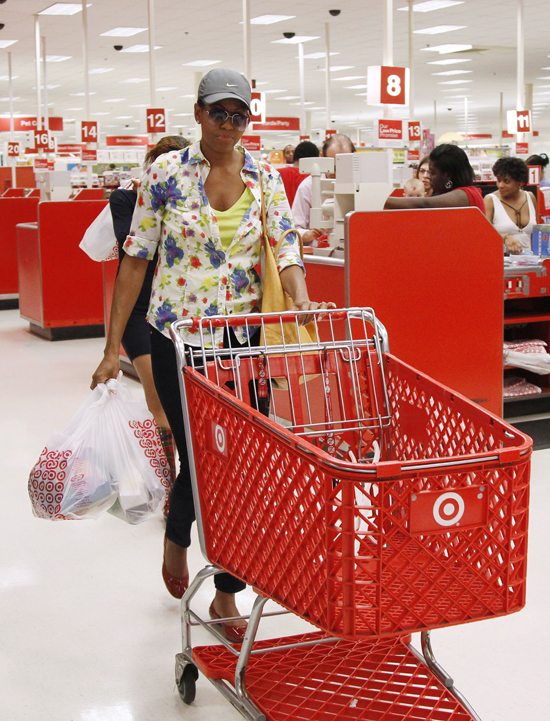 The Video (2:42 min)September 30, 2011 "…she's like regular people."
Huffington Post (11/29/11) on Michelle Obama at Target: "The first lady wore a floral shirt and lemon-hued tank, putting a sporty spin on the casual-cool ensemble with a Nike baseball cap. Judging by the two shopping bags she's toting, it looks as if she had a successful visit.
While Michelle's known to support high-end designers like Jason Wu, she's also given to stepping out in fast fashion. (Here she is in a Target frock two summers ago.)"
Another view from Right Wing Newscasters (9/20/2011): Friday's NBC "Today" devoted an entire segment to photos of First Lady Michelle Obama stopping by a Target store in Alexandria, Virginia, as Capitol Hill correspondent Kelly O'Donnell – on location at the shopping center – gushed: "Check this out. Behind those dark glasses, tucked under that Nike cap, one of the world's most famous women. Yes, that is the First Lady of the United States at Target." [Audio available here] 
Later, O'Donnell declared: "Doing ordinary things in tough economic times can be good for a public image."A sound bite followed from left-wing Huffington Post senior politics editor Howard Fineman: "It's great PR for them, because they can say, 'Look, on this trip and others, we know what's going on outside the gates of the White House.'"
***
O'DONNELL: Aides say Mrs. Obama likes to get out and run errands. On this trip, she bought dog food and treats for Bo. She has waxed nostalgic about going to Target before moving to the White House.MICHELLE OBAMA: I drove my own car, I took my kids to school every day, I went to Target
. 
READ MORE