Steve Welch does not connect and thinks Establishment support is more important than voter support.
We will remember that for years and years, the Establishment supported Arlen Specter, an UltraLiberal Democrat masquerading as a Republican.
The Republican Establishment Misled Us Once; Will They Fool Us Again?
2012 Senatorial Candidate Mark Scaringi makes some telling points in his radio ad —- Young Millionaire  SpecterRepublican Steve Welch is cozying up to the Republican Establishment "leadership" and ignoring grassroots Tea Party. When your campaign is run by John Brabender, and Rob Bickart is your fundraiser, one has to think Republican Establishment.
And Steve Welch does have a record of complying with Establishment requests.
And he did vote for Barack Obama and he did contribute to Joe Sestak.
And does anyone know if he is pro-life?  The presidential candidate will be. Can the Senate candidate not share this core value.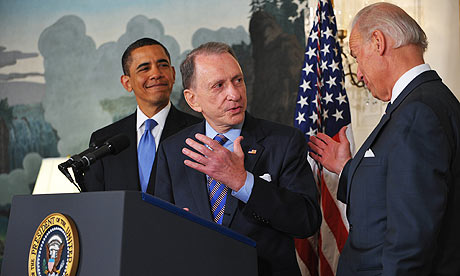 Which one does not belong?
Hat Tip  www.grassrootspa.com